Dutecs offers a complete range of Structured Cabling solutions for smooth transmission of data, audio and video.
Structured cabling allows a centralized information point where all the connections, data, and internet speed can be monitored. From single to multi-point connectivity, we undertake custom designing of cable infrastructure for your organization that will be scalable for future growth.
Our structured cabling system provides an infrastructure that delivers predictable performance as well as the flexibility to accommodate moves, additions, and changes, maximizes system availability, provides redundancy; and future proofs the usability of the cabling system.
There are numerous Structured cabling companies in Dubai. DUTECS is quite different from those Structured cabling companies. What makes us different will be the query popping up in your mind. We are dedicated to the design and deployment of quality cable infrastructures to which other expensive devices are connected. It makes DUTECS INFOTECH IT SOLUTIONS LLC differ from other Structured cabling companies.

Structured cabling companies try to compete in the rapid world without looking at work quality and ethics in the stream by looking forward for financial benefits. The outcome of such companies will be worst to their client industries. In the scenario, DUTECS INFOTECH IT SOLUTIONS LLC outstands, our experienced professionals will give you complete satisfaction by providing 100% input from our side. Thus it makes the communication and connectivity of the peripherals to a higher bandwidth.
DUTECS, highly reputed name among Structured cabling companies have already indulged the major industries including hospitality, transportation, retail, logistics, health care and education with the excellent service. In fact, our objective is tomake the peripherals housed and infrastructure to produce an optimum result and to minimize the risks, so choose the best among the Structured cabling companies. Dutecs Provide high quality network cabling services in dubai.
Structured Cabling in Dubai
A structured cabling system is a complete system of cabling and associated hardware, which provides a comprehensive telecommunications infrastructure. This infrastructure serves a wide range of uses, such as to provide telephone service or transmit data through a computer network. It should not be device dependent.
Get connected with Fibre Optic Cabling
Each second your team spends waiting for a web page or your online system to load is costing your business money. But, it doesn't need to be this way. With the increased bandwidth capacity that fibre optic cabling can bring, you'll be able to boost the speed and efficiency of your business. Fibre optic cabling helps your business to reach the next level, faster.
At Dutecs, our fibre optic structured cabling experts will provide your Colchester, or Essex, based business or public sector organisation with the latest fibre optic network cabling solutions.
Structured cabling Installation / Network Cabling Installation
Our experienced cabling technicians will put in the effort to design a system with your needs in mind. We'll consider the physical layout of your space and the goals you're trying to accomplish. We uphold the highest standards of safety and performance when designing, installing, testing, and repairing Cat6 cabling.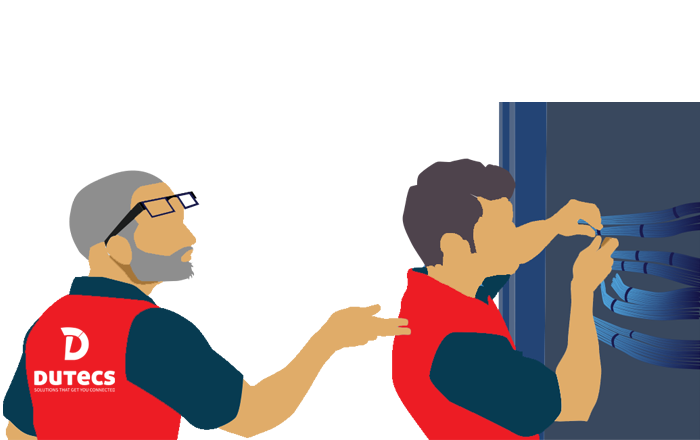 If you currently have an earlier generation of ethernet cables, you'll face a few limitations: namely, shorter maximum run lengths, a higher risk of signal interference, and slower Internet speeds. When you upgrade to Cat6 cables, you'll be able to take advantage of gigabit ethernet speeds over longer distances.

If you're looking to replace outdated cabling or design a brand-new network, we'll help you plan out the solution that best fits all your wiring requirements. We'll be able to recommend the type of cabling that works best for you, whether that's Cat6 or another type of data cabling.
DUTECS also offers wall mounts and racks for Cabling structure, including structured cabling components such as cable racks and patch cords for ease and better structure. Besides installation, we also undertake maintenance of these components.

Our experts handle every aspect of network deployment, from the design and installation of a completely new network to extension of an existing network.
Cat5 Cable, Cat6 Cable, Fiber Optic cable, IT Cabinet, Server Cabinet Professionally managed company. Committed technicians. Great job Sanil and team. Best service provided in UAE. Professional team with great team work.


6 MAJOR WAYS STRUCTURED CABLING IN DUBAI CAN HELP YOUR BUSINESS
It Looks Neat and Organized
Structured cabling will keep your business's IT network well-organized. This helps in a practical sense. When all the wires are neatly organized, it's much more difficult for someone to unplug the wrong cable in error, trip over a loose cable, or waste time searching for the right cable in a tangled mess.

Plus, aesthetics matter! Your data wiring will look neat and attractive when you use a structured cabling system. It will definitely look better than a tangled mess of disorganized wires, and as a result, your business will appear more professional to anyone who visits.
Structured Cabling Makes It Easy to Manage Everything
No matter the size of your business or the complexity of your IT infrastructure, structured cabling can help tremendously when it comes to managing your technology! If you have dozens of wires going to different equipment – computers, phones, thermostats, security cameras, smart lighting, copy machines, etc. – then it can be hard to manage unless everything is clearly labeled and organized.

When your IT infrastructure is well-designed and well-organized, your employees can be much more productive. You can carry out day-to-day operations including video conferences, voice calls, streaming, and much more with the peace of mind that your network is up to the task. Reliable technology is one of the keys to realizing your business's full potential and structured cabling is essential to reliable technology!
Structured Cabling is Customized to Your Business
When it comes to IT, "one size fits all" is rarely the best choice. Every business has different needs. Even if there's a business down the street that is exactly the same size as yours and does the same type of work that you do, your data wiring needs might be very different depending on the specific equipment you have, the layout and floor plan of your office, your budget considerations, and several more factors. Having structured cabling that's tailored to your needs will always save you time, money, and effort in the long run!
It Reduces the Chance of Costly Downtime
Any business owner knows that the cost of downtime can be steep, even if it's just for thirty minutes or an hour. Sometimes, a network goes down for unexplained reasons. If this happens, it's much easier to find the cause when all the cables are organized and clearly labeled. You can quickly identify where the problem is and fix it.

Whether it's a simple fix or a complicated one, the troubleshooting and repair can be carried out much more quickly. And since the cables are neatly out of the way, no one is going to trip on them, pull a plug, and cause downtime. Your productivity (and bottom line) will remain intact!
Technology can change rapidly, and if you don't keep up, it can have dire consequences for your business. Each time your company invests in a new IT system, it's important to make sure that it is future proof. This is true when it comes to cabling. If a new innovation comes out in the next few years and you want to upgrade, you should easily be able to do so with a well-designed system of structured cabling.
With a disorganized cabling system, it might be hard to swap out cables for new ones that transmit more data, more quickly. It might also be hard to reorganize or add new hardware. But with neat and methodically-designed structured cabling, it's far easier to be flexible and it'll be able to keep up with you as you work toward a more efficient work environment.
Plus, if there's any chance that your business will change locations in the future, structured cabling is surprisingly easy to disassemble and reassemble in a new place with minimal downtime and minimal stress! It's designed to be flexible so that it can meet your changing needs well into the future.
It Can Save You Money in the Long Run
Due to its reliability, flexibility, and scalability, a well-designed cabling system will help you save money and grow your bottom line. When you keep everything organized, you can spend less money on repairs, downtime, rearranging or adding new technology to your infrastructure.
Dutecs is here to provide cost-effective structured cabling solutions in Dubai businesses of all shapes and sizes. We'll help your business succeed with reliable, flexible, scalable data wiring solutions! Contact us today for a no-cost site survey and find out what we can do to prepare your business for growth.
Frequently Asked Questions
The ANSI/TIA-568
The Telecommunications Industry Association (TIA) originally wrote the 568 standards for structured cabling. Over the years, the TIA has revised their standards for cabling, especially as newer technologies have evolved in telecommunications. With the use of fiber-optic cabling on the rise, the 568 standards have been revised significantly in recent years.
The TIA-568 standards specifically deal with performance and compatibility for different kinds of wiring and cabling. Since structured cabling needs to work throughout a commercial building or throughout a campus, these standards are helpful in regulating the performance specifications of the most commonly used cables and cable terminations. Installation, testing and even the distance of cabling are three major parts of structure cabling that fall under the TIA 568 standards.
The ISO/EIC is the international standard for information technology systems. As the name suggests, it standardizes and regulates cabling systems within an IT network. The ISO standards are reviewed every five years, with the last major review and revision taking place in 2017.
Section 11801 deals with the general standards for cabling in a commercial building. The section covers data, voice and video services for cabling, along with specifications for both copper cabling and fibe-optic cabling.
The ANSI/TIA-568 and ISO/IEC 11801 are meant to regulate and govern cabling so manufacturers, data cabling companies and other vendors are using products that are up to a standard of specifications. If every manufacturer used a different type of cable, it would be near impossible to guarantee performance for structured cabling systems or IT networks.
Standards for electric and telecommunication products have been in place for decades. In fact, the IEC first began standardizing things like electric plugs and sockets because there were too many on the market! Each appliance manufacturer might have had its own kind of plug and socket. Not only was that inconvenient, but it also led to safety risks. The standards for structured cabling exist for the same reason. Having these strict standards and specifications in place for any kind of electrical equipment will help guarantee your cabling system works as it should and helps minimize risk.
When a data-cabling company installs a structured cabling system, the specialist should be following the ANSI/TIA and ISO/IEC standards for the layout and physical installation of the cables. It's important that the specialist carefully lays out the cable and necessary equipment for your new system with future use in mind. If you ever add new technology or new cabling, you need to make sure it all works. This is one reason why the TIA standards in particular mandate that cables be backward-compatible. That means any newer cables have to be able to support and work with an older system. Everything within the specifications of these standards ensures performance and reliability.
Dutecs offers a complete range of Structured Cabling solutions for smooth transmission of data, audio and video.
In a structured cabling system technology, a series of patch panels & trunks are used to make a cabling structure that allows for hardware ports to be integrated or connected to a patch panel located at the top of the rack. Structured Cabling runs patch cables (or "jumpers") directly to and from the hardware that needs connectivity.
Structured cabling standards help organizations and businesses to install wiring in such a way that prevents the messy cabling tangles by keeping the whole wiring infrastructure organized and flexible.